Thursday, November 21, 2019
---
Dear CCP members:
I've been delighted to see so many of you at meetings, conferences, and celebrations around the state. I hope to see many more of you at CCP's Dec. 3rd program with Phil Buchanan, Giving Done Right.
If you've been following the news, you've probably seen that philanthropy has been reported on quite a bit lately. There have been two articles in the CT Mirror: Nonprofits Say Philanthropy Alone Can't Save Services; and While Nonprofits Seek State Aid, Lamont Steers Them to Private Donors. In response, I penned an op-ed about the value of and roles for philanthropy which was published in the CT Mirror yesterday afternoon, Filling the Gaps Is a Poor Role for Philanthropy.
As I've shared, CCP is in the throes of strategic planning, and I want to thank all of you who participated in CCP's member survey. The response was tremendous, and your feedback was a key input in a recent retreat of CCP's staff and board. It's been an exciting process and I look forward to sharing more about this work.
The holiday season is fast approaching, and I want to thank you for the work that you and your colleagues do every day, supporting nonprofits, leaders, and communities throughout the state of Connecticut.
Best regards,
Karla Fortunato
CCP President
---
The power of good work . . . CCP updates >>    
The power of good leadership . . . CCP policy update - Census Alert >>
The power of good networks . . . CCP featured events >>
The power of good networks . . . Membership >>
The power of good connections . . . Funder opportunities >>
The power of good connections . . . Member news >>
The power of good connections . . . Job opportunities >>
The power of good ideas . . . New resources >>
The power of good people . . . Colleague news >>             
---
  The power of good work . . . CCP opportunities and updates    
---
A Call for CCP Board Nominations 
The Connecticut Council for Philanthropy seeks nominations for candidates to our Board of Directors. The board has identified some priorities for selecting directors, including the following:
Candidates who are committed to, and have expertise in, advancing diversity, equity, and inclusion;
Candidates who represent diverse perspectives, experiences, foundation types, and regions;
Candidates who bring expertise in marketing and communications; and,
Candidates who are deeply connected to the nonprofit community.
If you are interested in nominating yourself or a colleague, or if you are interested in learning more, please reach out to Karla Fortunato, 860-525-5585. 
---
Don't Forget to Renew Your CCP Membership
It's membership renewal time. We're excited to continue our work with the philanthropic community – networking and community building, learning programs on new trends and emerging issues, providing data and analysis on charitable giving in the state, and raising the visibility of the sector. We hope that you're excited too and will partner with us for another year of membership. Membership renewal letters were mailed in late October. If you have a question about your CCP membership or member benefits, contact Dee Goodrich, director of member engagement, 860-525-5585.
CCP's programs provide great value to Connecticut's philanthropy professionals, including our Philanthropy 101 series: "The Philanthropy 101 series has been a great experience as a newcomer to the field of development. I cherish every opportunity to get out of the office to learn and this was a rich series led by local experts in our field. It has given me a better understanding of the layers of philanthropy, and how they interact, while introducing me to a wide network of colleagues from foundations across Connecticut."
Elana MacGilpin, development and stewardship officer
Jewish Community Foundation of Greater Hartford   
---
CCP's 2020 Sponsorships Opportunities
CCP invites you to consider 2020 sponsorship opportunities. Sponsorship gives visibility to our members and supporters while bolstering our ability to create excellent resources for the philanthropic sectors. Next year's opportunities include sponsorship of our Annual Conference, CT Giving Report, Connecticut Philanthropy Digest, and a CT Statewide Funder Meeting. Learn more by downloading the CCP sponsor package >>
---
Survey Findings: Priorities and Strategies for Early Childhood Advocacy
The CT Early Childhood Funder Collaborative (ECFC) is pleased to share their report, Survey Findings: Priorities and Strategies Related to Early Childhood Advocacy Among Grantmakers in Connecticut. The survey and report are the result of a partnership with The Alliance for Early Success, with the aim of improving early childhood outcomes and the effectiveness of grantmaking in Connecticut. Survey responses showed that many grantmakers in Connecticut understand the importance of policy and are investing in advocacy using a wide array of strategies.
"One of the surprises in the survey's findings was the high percentage of respondents supporting policy and advocacy. This reflects philanthropy's focus on supporting systems change and offers another avenue for funder collaboration," commented ECFC Executive Director Carol O'Donnell.
Report highlights include: 
More than 70% of respondents that fund early childhood education supported advocacy or public policy over the last 3 years;
Children's social/emotional/mental or behavioral health was the top priority among grantmakers;
Increasing availability of high quality, accessible infant/toddler care was identified as a top interest for collective action among grantmakers;
Limited staff capacity is the greatest challenge facing grantmakers supporting advocacy; and
Funders are employing multiple strategies to support advocacy including coalition building, grassroots organizing, public awareness, policy research and messaging.
For questions about joining the CT Early Childhood Funder Collaborative, contact Carol P. O'Donnell, Executive Director, 203-927-5997.
---
Get on the Map: A Tale of the Missing Grant
Reporting grants data is the solution to the incomplete grants data picture in Connecticut. For 2017, CCP's CT Foundations Stats captured just 51% of detailed grants data. Comprehensive reporting that contains the grant issue area, grant size, population served, and the location where that funding is having an impact is crucial to creating a more informed philanthropic community. With improved data, grantmakers can more easily search for gaps in funding and target overlooked areas, align their grantmaking with others or even collaborate. And the consequences of failing to self-report affect both grantmakers and nonprofits.
Susan Sadecki is the president and CEO of the Main Street Community Foundation, which supports six towns in Central Connecticut. After conducting grants research, Susan was shocked to discover that her organization's workforce development grant was misrepresented. Read the full story >>
CCP's Get on the Map feature was written by Kobe Amos, CCP's Data and Communication Intern.
As we gear up for the next Connecticut Giving Report with 2017 information, please help CCP by electronically reporting your grants data to Foundation Center. Foundation Center is our primary source of grants data for informing the Giving in Connecticut Report, and powering our CT Foundations Stats and CT Grantmaking Map tools. If all CCP Members reported their grants data, we would have an even more robust and accurate accounting of where grant dollars go and improve analysis to inform your strategy and grantmaking.
Foundation Center is collecting data for FY2017 through FY2019, and you can submit past years, as well. If you have grants management software, you can easily export a report to the Foundation Center. Submitting an excel spread is also acceptable. Learn more and report today. CCP's Director of Communications Laurie Allen looks forward to connecting with and assisting CCP member organizations that have not yet reported their grants data.
---
Share Your 2020 Events for the Calendar
Share your organization's 2020 event dates and information and CCP will make sure your event is included in our online Events Calendar. This can help you with your planning, aid CCP with scheduling event and network meeting dates, and provide additional visibility for your event. Send your invitations, save the date announcements, and press releases to Laurie Allen, Director of Communications.
---
NOVEMBER Where is #CCP50? Photo
Do you know the location of November's Where is #CCP50? Send your answer by November 30, 2019 to: CCP50@CTphilanthropy.org. CCP members who email us with the correct location will be entered into a random drawing for a fun prize -- a Newman's Own gift bag, courtesy of Newman's Own Foundation. Help spread the fun by sharing on your social media. We'll post the winner on our website and on social media channels along with facts about the location and funders who make an impact in the area.
The October Where is #CCP50? winner is Kathleen Cei of The Community Foundation for Greater New Haven. The photo is of Union Station in New Haven which opened in 1920, and is listed on the National Register of Historic Places. It's a premier gateway to New Haven, home of CCP members including: The Community Foundation for Greater New Haven, Ethel and Abe Lapides Foundation, Leon Lowenstein Foundation, The Melville Charitable Trust, NewAlliance Foundation, Perrin Family Foundation, and the Emily Hall Tremaine Foundation. Find more past photos and winners >>   
---
  The power of good leadership . . . CCP policy update - 2020 Census Alert
---
What is the Census? Why Is a Complete Count Important?
The Census, held every ten years and mandated by the US Constitution, is a national count used to determine critical decisions, like political representation and how much federal funding will go to communities. When a community is undercounted by the Census, it results in less political representation and less federal funding for those communities. The 2020 count will have a decade-long impact on our state, cities, and towns.
Based on the latest census estimates, approximately 22% of Connecticut's current population (or 805,756 people) lives in hard-to-count (HTC) neighborhoods, and it is estimated that Connecticut will lose $2,900 in federal funding for every person not counted. Although Connecticut state government has been slow to allocate funds for Census 2020, several community foundations challenged the state to come up with funding. In October the state announced a commitment of $500,000 in discretionary funds for Census 2020 community outreach.
CCP, as well as the Hartford Foundation for Public Giving and the Community Foundation for Greater New Haven, sit on Connecticut's Complete Count Committee. In this role, CCP has been advocating for the state to develop a strong plan and commit the necessary resources to support an accurate census count in 2020. We were delighted to see that the State made a commitment of $500,000 to support the 2020 census, but understand that more resources will be needed.
Meanwhile, many have begun the work to ensure an accurate count. There are over 100 local complete count committees launched. Key nonprofits are developing infrastructure to support statewide capacity, and many nonprofits are developing plans and activities. This is encouraging, but more resources and organizations are needed. CCP is in the process of pulling together a webinar for funders on the current state of play, and will share details with you as soon as they are finalized.
2020 Census Coverage in Connecticut
Historically Undercounted Communities
Do the communities you serve and fund belong to any of these historically undercounted communities? Undercounting impacts political rights and access to public and private resources. The The Center on Poverty and Inequality has published Hard to Count Fact Sheets that explain what makes populations hard to count and how undercounting can impact political rights and access to public resources. You can explore Connecticut's HTC neighborhoods in the Census 2020 HTC Map for Connecticut >>
Urban and rural areas with large low-income populations
People of color
Immigrants, including undocumented residents
Non-English speakers
Migrant workers
Formerly incarcerated people
Young children

The elderly
People with disabilities
Renters
Those experiencing homelessness
Members of the LGBTQ community
Persons living in mobile homes or multi-unit residences
Census Partner Specialists
Connecticut is part of the New York Regional Census Office, but there are partner specialists working locally to raise awareness and promote participation in 2020 Census. Here is a list of Connecticut's Partner Specialists with their assigned territory. To reach a specialist contact the New York Regional Census Office: 800-991-2520; New.York.Regional.Office@census.gov.
Michael Burke: New Haven/Middlesex
Yvette Rose: Fairfield
Clodomiro Falcon: New Haven/Fairfield (Clodomiro also covers all Hispanic/Latinx Partners throughout the state)
Phyllis Fusco: Hartford/Litchfield
Kevin Shippy: New Haven
Catherine Marx: Hartford/Tolland
Jamie McDonald: New Haven/Hartford
Eva Bunnell: New London/Windham/small part of Middlesex (Congressional/Tribal Specialist for NY Census Region/Persons of Color for state of CT)
2020 Census Resources
Census 2020: Lack of State Funding Raises Risk of an Inaccurate 2020 Census Count >>
Connecticut Voices for Children today released a report that reveals the likelihood and heightened risks of an inaccurate count during the 2020 Census. In response to these findings, CT Voices is urging state leaders to prioritize statewide planning and investment in Census outreach and education to ensure our state isn't impacted by the far-reaching consequences of an under count to residents, state and local governments, dozens of federal and state programs and benefits, as well as Connecticut's democracy and economy.
Census 2020 Menu of Options for Funders >>
What Can Funders Do? A working group of the The Funders' Committee for Civic Participation and the United Philanthropy Forum have created a menu of options for funder participation in promoting a fair and accurate Census count. The sheet is organized by what you can do in three areas: participating, convening, and investing.
Get Out the Count (GOTC) Toolkit >>
The Census Counts Coalition's toolkit aims to support outreach efforts so every person in every community is counted. The toolkit pulls together resources on background, Get Out the Count (GOTC) outreach, cybersecurity, an accessible GOTC plan, and other materials. Additional sections will become available over the coming weeks.
US Census Bureau Outreach Materials >>
The US Census Bureau offers materials about the 2020 Census that can be shared with the public and provides resources that explain what partners can do to contribute. Materials include a recruitment toolkit; a guide for complete count committees; toolkits for congressional, state, and local officials; facts sheets; infographics and visulaizations; promotional materials; and more.
CCP Census Resource webpage >> 
---
  The power of good networks . . . CCP programs
---
A Funder Conversation with Phil Buchanan in Two Locations
DECEMBER 3: 9:00 - 10:30 AM in Norwalk and 12:30 - 2:00 PM in Hartford
We are nearing capacity at each venue, especially Norwalk, so register today to ensure your seat!  Register for Norwalk >>   Register for Hartford >>
Join the Fairfield County Funder Network and the Greater Hartford Funder Network for conversations with Phil Buchanan about his new book, Giving Done Right. At this moment, when philanthropy is both under increasing scrutiny and also more crucial than ever, Phil makes a series of recommendations to increase the effectiveness of philanthropic practice. This program is open to staff and trustees of grantmaking organizations as well as philanthropic advisors.
---
JANUARY 9: 1:30 - 4:00 PM, Nathanael B. Greene Community Center, Guilford
Join us for the first ever meeting of Development Officers.
Using an interactive format, this inaugural meeting will feature discussion around some big questions and opportunities facing development professionals in philanthropy and will unpack recent data on giving trends. We will also seek input to shape the role and future focus of this group with an eye to building our individual and collective strength and capacity.  
---
For questions about any of CCP's programs or network meetings, contact Dee Goodrich, Director of Member Engagement, 860-525-5585.   
---
FUNDER OPPORTUNITIES
Foundation Circle 2020 Leadership Cohort >>
DECEMBER 30: Application deadline
Foundation Circle is an 18-month cohort-based learning program for executive level leaders in place-based foundations who are committed to advancing their mission-aligned investing work. They integrate social and racial equity into the curriculum and engage in face-to-face and online gatherings. The program runs from Spring 2020 through Fall 2021. Submit an inquiry >>
Workplace Team Development – Developing & Delivering Solutions in a Collaborative Environment >>
DECEMBER 13: 9:00 AM - 4:00 PM: Lunch provided: UConn Hartford Campus, Hartford
As a partner organization of UConn's Public Service Executive Leadership Collaborative, members of the Connecticut Council for Philanthropy and their grantees receive a substantial discount. The full-day workshop is presented in a shared learning environment with public sector and nonprofit professionals. The December workshop features Kenya Rutland KJR Consulting. Participants will gain an understanding of strategies and tactics for fostering cohesive teams by exploring individual work styles, identifying ways to foster a culture of trust and transparency, and developing ideas for increasing employee engagement and productivity.
Transforming Youth Justice Leadership Development Program >>
NOVEMBER 29: Application deadline
The fifth cohort of Transforming Youth Justice Leadership Development Program is being offered by the Tow Youth Justice Institute and the University of New Haven. The program is provided at no cost to the individuals accepted or to their agencies.  Applicants who are mid-level managers and leaders in law enforcement, state and local government, private agencies, non-profit service providers, secondary education, policymakers, community and faith leaders, parents and caregivers, and advocates are being sought for this nine month program.
SAVE the Date: Grantmakers for Effective Organizations (GEO) National Conference >>
APRIL 27-29, 2020: Boston, MA
GEO's 2020 National Conference combines thought-provoking plenaries and actionable breakouts with networking opportunities among like-minded members of the GEO community that provide ideas, tools, and connections.
On-Line Community Foundation Express Training >>
Through our partnership with the United Philanthropy Forum, CCP member community foundations may receive a $400 discount (discount code: FORUM2018) on the Kansas Association of Community Foundations' On-Line CF Express Training (Community Foundation License). The online training and certificate program focuses on core essentials over a 15-module series that covers nearly every aspect of community foundation work: from asset development and quality grants programs design to fiduciary and policy matters. Plus, enjoy 24-hour-access to the easy-to-navigate short (5-15 min) modules in any order from the comfort of a home or an office, in private, or as a group or board training.     
---
  The power of good connections . . . Member news
---
Nonprofit Grantee Opportunity
The Connecticut Health and Educational Facilities Authority (CHEFA) has opened its 2020 Nonprofit Grant Program RFP process. Organizations whose mission statement and capital project or program are related to one of CHEFA's four grantmaking priorities of childcare, cultural, education, or healthcare are invited to submit a Letter of Interest by December 13, 2019. Grant amounts range from $5,000 to $75,000 with projects/programs effective June 30, 2020 through June 30, 2021.
---
Fairfield County Thrives Podcasts
The Fairfield County's Community Foundation has introduced a monthly podcast series, Fairfield County Thrives. Each episode will bring voices and stories from people who are making a difference in Fairfield County and the extraordinary work being done to eliminate disparities in income, housing, health, employment and education opportunities in the region. In the first episode Fairfield County's Community Foundation's President and CEO, Juanita James, sits down with Actress, Producer, and Activist, Tracee Ellis Ross. The discussion centers on inclusivity and equity for women and girls in our county and beyond.   Read more >>
---
Disinvested: Building A Stronger Community From the Ground Up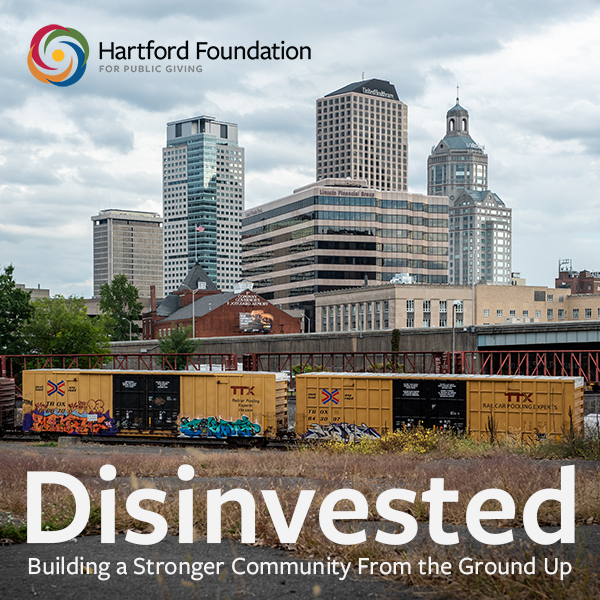 The Hartford Foundation for Public Giving's "Disinvested: Building a Stronger Community from the Ground Up," is a seven-part podcast series about building a stronger, more inclusive community from the ground up. It features more than 80 interviews from Greater Hartford and beyond, including residents, journalists, elected officials, and nonprofit leaders who are involved with efforts to build a stronger, more inclusive community.  Each episode highlights issues that are major focus areas for the Hartford Foundation's new strategic framework. The first episode of Disinvested, "An Economy for Everyone," focuses on inclusive economic and community development and explores the disparities that exist in Hartford and the surrounding communities. October podcasts >>  November Podcasts >>
---
Member Blogs, Media, and Publications
---
  The power of good connections . . . Job opportunities
---
Have an opening at your organization? Contact Laurie Allen to include your position in CCP's jobs bank free of charge as a benefit of membership.      
---
  The power of good ideas . . . New resources
---
ADVOCACY
In Urban Institute's video, "Philanthropy's New Playbook for Policy Advocacy," four of the nation's top philanthropic leaders discuss specific innovations and shed light on how givers can make a difference by embracing new approaches to policy advocacy. Speakers include: Melanca Clark, Hudson-Webber Foundation; Brian Hooks, Stand Together and Charles Koch Foundation; Kelli Rhee, Arnold Ventures; and Mark Rigdon, The Bill and Melinda Gates Foundation. Phil Buchanan, Center for Effective Philanthropy moderates the discussion.
---
SCHOLARSHIPS and DATA
Funded by the Ford and Mellon Foundations, Candid's (Foundation Center) Scholarships for Change is designed to help guide funders in identifying approaches and strategies that work. The platform site includes an interactive funding map, curated knowledge center, and 12 new Granftcraft case studies. Though publicly accessible for all, those who will find the site most useful include: foundation program officers and staff, individual philanthropists, those establishing scholarship/fellowship funds for the first time, donor advisors at community foundations, and philanthropic advisors.
---
Asset Funder Network has two new reports: Pioneering Health and Wealth Integration for Children, in collaboration with Yale University School of Medicine's Program for Recovery and Community Health, reveals that for many children 3 - 17 years of age -- especially for those of color, health and wealth inequities are standing in the way of a prosperous future. To better equip philanthropy to strategically invest in the intersection of health and wealth, the new report outlines the important linkages between health-wealth and children, and how these interactions offer better outcomes for children.
When A Job Is Not Enough: Employee Financial Wellness and the Role of Philanthropy, sheds light on the role employers and philanthropy can play in best promoting financial well-being for workers through the offering of Employee Financial Wellness Programs (EFWPs). Data suggests that EFWPs improve employees financial stability and help create a more productive work environment.
---
EARLY CHILDHOOD
Check out Urban Institute's report, Segregation at the Start. They reported that rates of racial segregation in k-12 schools throughout the Northeast are higher than other parts of the country. But, rates of segregation are at their highest during the earliest, and most formative years of childhood development. According to Urban Institute, more research coupled with an acknowledgement of the importance of ECE programs are necessary to produce more equal and equitable outcomes.
All Our Kin, based in New Haven, authored the report, Creating the Conditions for Family Child Care to Thrive. The policy report examines the strategies for state and local leaders who are eager to support family child care in their own community and the type of environment that is necessary to achieving high-quality, sustainable child care. Grounded in decades of experience in the field working with partners to develop strong advocates for children and families, All Our Kin's report offers research-based recommendations and highlights the technical assistance available to states who are looking to implement their recommendations.
---
IMPLICIT BIAS
The recent Issue Brief of the Tow Youth Justice Institute is all about Implicit Bias, What is it? How do we define it? Do we have it? The brief gives the history, core concepts, science and effects of racial implicit bias on youth.  
---
  The power of good people . . . Colleague news
---
Are you new to your organization or have you received a promotion, certification or award? Have you presented at a conference or event or have you published a blog or report? Send your news and a photo to: Laurie Allen, Director of Communications. Read More in the Colleague News Feed >>
---
The Melville Charitable Trust has selected Susan Thomas to be the foundation's next president, effective January 6, 2020. Susan is the Trust's program director in which position she has led the foundation's housing and racial equity efforts for five years and manages a state and national portfolio of grants supporting solutions to homelessness. She will become the third leader of the 30-year-old foundation, replacing Janice Elliott, who announced she will be retiring on December 31 after heading the foundation for seven years. "After an extensive search that included outstanding candidates from throughout the United States, Susan emerged as our new leader because of her demonstrated skills, considerable achievements, and deep commitment to the foundation's mission, vision, and values," said Stephen Melville, chair of the Melville Charitable Trust board. "She is dedicated, resourceful, and known for her talent in developing strategic relationships, forging consensus, and galvanizing support for a common cause. We believe her leadership will open new avenues for investing in visionary organizations, advancing racial equity, and fostering deep collaboration between sectors." Read more >>
---
Travelers and the Travelers Foundation has announced the promotion of Erin Haberman to Senior Director, Community Relations for Travelers; and Second Vice President for the Travelers Foundation, effective immediately. Since joining the Community Relations team in 2014, Erin has demonstrated a strong commitment to ensuring opportunity through their corporate giving programs. She has been instrumental in shaping, fortifying, and building partnerships with nonprofit organizations and has taken the lead in developing key relationships with disaster response organizations, such as Team Rubicon and SBP. Read more >>  
---
  About the Member eBrief
---
The Member eBrief, is a CCP members-only electronic newsletter. Members receive the bi-monthly publication to keep them current on upcoming CCP programs, member and colleague news, trends, and new resources. Members are encouraged to send press releases, public events, announcements, newsletters, and colleague news to Laurie Allen, Director of Communications.